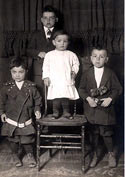 Hubert, Gelard, Bernard and Claude, taken in 1925. Picture from Sr. Mary Christine (George)


August 26, 1964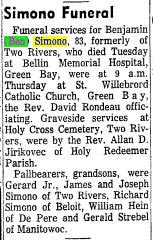 August28, 1964
OBIT: Peshtigo Times, November 30, 1957

Funeral Rites Held For Former Resident
Coleman - Funeral services for Mrs. Florence Simono, 74, of Two Rivers, who died at the Two Rivers hospital Nov. 26 of a heart attack, were conducted Friday at 9:30 a.m. from the Klein and Stangel Inc., Funeral Home at Two Rivers and at 10 a.m. from St. Luke's Catholic church, Two Rivers, with the Rev. Herman J. Schmitz officiating. Burial was in the Holy Cross Cemetery, Two Rivers.

The former Florence Martens was born at De Pere Nov. 5, 1883, daughter of Mathias and Mary (Van De Castle) Martens. She attended grade school at De Pere and later the family moved to Coleman. She was married at Pound in February of 1904 (Should be 1905) to Ben Simono. The family moved to Two Rivers in 1916. From 1937 to 1951 Mrs. Simono resided with her son, Al Simono, and a sister, Elizabeth Martens.

She was a member of the Altar society of St. Luke's church and also of the Women's Catholic Order of Foresters.

Surviving are five sons, Aelred, of Coleman, and Hubert, Bernard, Gerard (should be Gelard) and Claude of Two Rivers; a sister, Mrs. Elizabeth Martens, of Two Rivers; four brothers, Ray and Charles of Pound, Harry of Coleman and Clement, of Green Bay; 21 grandchildren, and 10 great grandchildren.