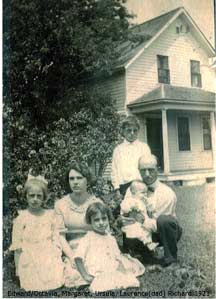 Edward and family 1920
Wednesday, October 4, 1922 Marinette Eagle Star, page 5:
PROMINENT RESIDENT OF POUND PASSES AWAY
Pound, Wis., Oct. 3. - Edward Martens, prominent merchant and business man of Pound, passed away Monday at 2:30 o'clock at the St. Vincent's hospital, Green Bay. Mr. Martens was taken alarmingly ill last Thursday night and Friday morning was rushed to the hospital where all that human skill and science could do, was done, but of no avail. His wife, children and relatives were all at his bedside when the end came. He was conscious until the last, and spoke words of comfort to his loved ones and bid them good bye.
He leaves, besides his parents, four sisters and six brothers, his wife and four children, Margaret, Lawrence, Ursula and Richard. The death of Mr. Martens has cast a gloom over the village as he was a favorite among all, always ready to lend a helping hand to the needy and always ready to sympathize with those in trouble.
Mr. Martens will be missed from the community and the family has the sympathy of the entire neighborhood. He was a son of M. Martens of Coleman.