Marriage: Emma Laurent June 17, 1917
Children:
Louise: August 31, 1918 (See pic to right)-Sept. 18, 2005
Evelyn: March 21, 1920 - August 1996

Harold Leonard: November 15, 1921-February 5, 1955
Frank: May 19, 1923 - 05 Nov 1999

Don: June 25, 1925

Patricia: December 21, 1926
Larry: September 14, 1930
Maxine: May 25, 1932 - 1982 (Sr.. Mary Stephen)
Denise: July 6, 1935 - October 15, 1997
Mary: December 5, 1943
Married: Lillian Munson January 15, 1973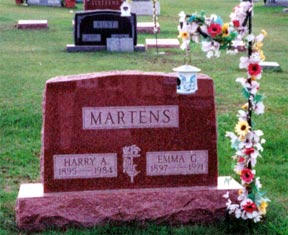 Marinette Eagle Star, April 3, 1984
Area Obituaries:
HARRY MARTENS Coleman - Services for Harry A. Martens, 88, a Coleman native who died Sunday, will be held Thursday at 11 a.m. at St. Francis Catholic Church here. The Rev. Martin Fox will officiate. Burial will be in the church cemetery. Friends may call at Rhodes-Charapata Funeral Home from 4 to 9 p.m. Wednesday and until 10:45 a.m. Thursday. A Knights of Columbus vigil will be held at 7:30 p.m. Wednesday and a wake service at 8:15.
He was born April 10, 1895 in Coleman. He was employed in the family business, the Martens store, for several yaers. He was postmaster of the Coleman Post Office from 1936 until retiring in 1965. He married the former Emma Laurent June 20, 1917, at St. John Church here. She died June 10, 1971. He married the former Lillian Nemitz Munson June 15, 1973, in Florida.
He was an honory life member of the Knights, former member of the Coleman Fire Department and of the Coleman Businessmen's Association.
Surviving are his wife; five daughters, Mrs. Donald Malmstadt of West Allis, Mrs. Robert Bachuber of Menasha, Mrs. Daniel Waselchut of Appleton, Mrs. Ronald Frank of Oshkosh and Mrs. Richard Ziemer of Route 1, Coleman; four sons, Frank, Donald and Thomas, all of Green Bay, and Lawrence of Albany, N.Y.; a brother, Clement of Green Bay, 65 grandchildren and 35 great grandchildren. A son, Harold "Leonard", died in 1955; a daughter Sister Mary Stephen died , in 1982; and four sisters and five brothers died previously.