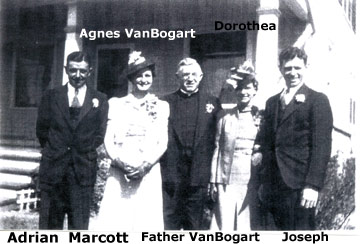 (From Kathleen Martens Meason 2/15/05)
MISS MARTENS WED TO J. VAN BOGART
May 11, 1939

Ceremony Performed at St. Mary's Church Today

DE PERE - Miss Dorothea Martens and Joseph Van Bogart were married this morning in St. Mary's church. The nuptial mass was celebrated at 8 o'clock by the Rev. Joseph Van Bogart, Mishicot, the groom's uncle. The bride is a daughter of the late Mr. and Mrs. Henry Martens, Sauk Rapids, MN; and for the last six years had resided witht he Fred W. Marcott family, 501 N. Huron Street. The groom is a sone of Mr. and Mrs. Frank Van Bogart, S. Broadway.

A costume suit of dusty rose, with navy blue accessories, was worn by the bride. Her flowers were a corsage of roses. The bridesmaid, Miss Agnes Van Bogart, sister of the groom, was attired in a costume suit of powder blue, with navy blue accessories. Her flowers also were a corsage of roses. Adrian Marcott was best man and Winfred Peters and George Vander Loop were ushers.

A bridal breakfast was served at Union hotel, and dinner was served and a reception held at the home of the groom's parents. Mr. and Mrs. Van Bogart will spend their honeymoon in Chicago and other cities, and will reside at 517 Charles street. The groom is an employee of the Hoberg Paper Mills, Green Bay.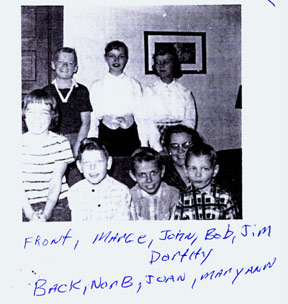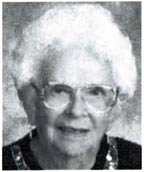 OBIT:
Van Bogart, Dorothea J. (Martens)
Dorothea J. (Martens) Van Bogart, 89 De Pere, passed away Tuesday evening, Nov. 18, 2003, at a local hospital. The daughter of Henry and Martha (Gustman) Martens was born January 24, 1914, in Sauk Rapids, Minn. Dorothea married Joseph Van Bogart in May of 1939 at St. Mary's Church by Fr. Joseph Van Bogart, who was an uncle to Joe. Joe preceded her in death July 26, 1951. Dorothea worked at Ford's Bakery for about 30 years. She was a member of St. Mary's Catholic Community and the Christian Ladies Society at church. She participated in the water aerobics class at the YMCA and she loved to do plastic canvas crafts. One of her greatest joys was to go to her grand-children's and great-grand children's activities. Dorothea loved to travel and recently fulfilled her dream of going to Alaska.
Survivors include her children and their families. Mary Ann (Roger) Boersma and their family, Peggy (Jim) Kotras and family, Tyler, Steven, Angela and Timmy Stoltz, Pam (Bob) Przybelski and family, Mike and Liz Rogers and Anna Przybelski, Val and Kaleb Boersma, Pete Boersma, Patrick "Boogs" and Cathy Boersma, Joan Quigley and friend, Dick Bos and Joan's family Beth and Joe Ambrosius and their family, Jeff Byers and Jake Ambrosius, David and Cindy Quigley and family, Jessica and Amanda Quigley, Chris and Donna Quigley and family, Sarah, Sami and Taylor Quigley, Steven Quigley and son, Brett Quigley, Wendy Stevens and daughter, Lindsey Stevens; Norbert Van Bogart and his friend, Shirley Bader, Bob(Wanda) Van Bogart and chilren, Theresa (Brad) Jacob, Trevor, Chuck (Darcie), Rebecca, Austin and Robbie. John Van Bogart, Marge and Jim Ver Haagh and their family, Jeff and son, Nick Ver Haagh, Bob (Toni) and his daughter, Kayla, Jim (Clem) and Pam Van Bogart and their children, Kim and Gary Hagerstrom and family, Valerie, Mac Kenzie, and Tanner Hagerstrom, James (Joe) and Jen Van Bogart.
She was preceded in death by her husband, Joseph; grandson, Paul Boersma and great-grandson Zacherie Boersma; two brothers, Lawrence and Bob Martens.
Family and friends may call Friday, Nov. 21, 2003, from 4 p.m. to 8 p.m. at Cotter Funeral home, 850 N. Webster Avenue., De Pere, where thre will be a Parish Wake Service at 7 p.m. Visitation will continue on Saturday, Nov. 22, 2003, at St. Mary Catholic community, Pope John XXIII Circle, town of Ledgeview, off Sportsman Drive, from 10 a.m. until the hour of Mass. Mass of Christian Burial will be celebrated 11 a.m. Saturday at church, with the Rev. John H. Harper officiating. Interment willbe in Mt. Olivet Cemeterry, De Pere.
A memorial fund for St. Mary Catholic Community De Pere has been established in Dorothea's name.
Dorothea's family would like to extend a special thank you to the entire 6th floor ICU staff at St. Vincent Hospital, especially Wendy and Gwendolyn for their tremendous care and concern shown to Dorothea and her family.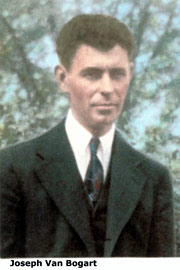 OBIT:
DePere News 7/26/1951
J. Van Bogart, 38, Dies after Illness
DePere - Joesph Van Bogart, 38, died at 6 o'clock this morning in St. Vincent hospital in Green Bay after an illness of six weeks. He was born April 19, 1913 in the town of De Pere and had lived thre all his life. He was employed by the Milprint company here.
Survivors are his wife, the former Dorothea Martens, three daughters and four sons, Mary Ann, Joan, Marjie, Norbert, Bobby, John and Jimmy, all at home. Also surviving him are four sisters, Sr. Francis Borgia of Prairie du Chien, Mrs. George VanderLoop, Winford Peters and Mrs. Al Peters, De Pere.
Friends may call at the Coffey Funeral home after 7 o'clock this evening. The Holy Name Society of St. Mary's church of which Mr. Van Bogart was a member, will say the rosary at 8 o'clock this evening and the Rev. Martin Vosbeek at 8:00 o'clock Friday evening.
Funeral services will be held at 9 o'clock Saturday morning in St. Mary's church. Father Vosbeek will offer the requiem mass and burial will be in Mt. Olivet cemetery.