Tuesday, June 11, 1935 Marinette Eagle Star
MARY EBERT IS WED TO CLARENCE MARTENS HERE LAST SATURDAY
Another June wedding took place in St. John's Catholic church here, Saturday morning when Miss Mary Ebert, daughter of Mr. and Mrs. G. Ebert of Oconto, became the bride of Clarence Martens, son of Mr. and Mrs. Louis Martens of this village.

The bride was attired in a gown of white satin with cap effect veil and corresponding accessories and wore a corsage bouquet of roses. She was attended by Miss Ursula Martens, who wore a gown of peach satin, with accessories to match and carried an arm bouquet of mixed flowers. Claire Martens attended the groom.

The couple were united in marriage by the Rev. J. Therien, pastor of St. John's at an eight o'clock mass.

A wedding supper was served at the home of the groom's parents to sixty relatives and close friends of the families. The couple will make their home here. In the evening a well attended dance was held in Scheuren's hall, the evening being also the silver wedding anniversary of the groom's parents.

Out of town guests at the wedding were Mr. and Mrs. George Martens of Stevens Point; Mrs. Edward Daley and twin daughters, Green Bay; Mrs. and Mrs. Edward Boville and family, Mr. and Mrs. Harry Boville and family, and Lawrence Boville, all of Milwaukee; Mr. and Mrs. Frank Rice and Mr. and Mrs. Lucien Brault, New London; Mrs. Anna Dressen, Milwaukee and Mr. and Mrs. Milton Saucier, Miss Murry, Mr. and Mrs. Elmer Junco and Mrs. Clara Junco, all of Oconto.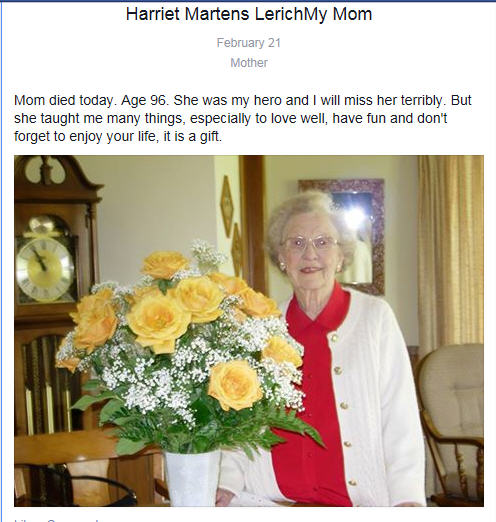 Died February 21, 2015. Her pies were wonderful.
Mary "Harriet" (Martens) Lerich
(June 30, 1918 - February 21, 2015)
Mary "Harriet" (Martens) Lerich, 96, of Coleman died peacefully in Green Bay Surrounded by her family February 21, 2015. She was born June 30, 1918. A beloved wife, mother, grandmother, great grandmother, Harriet was raised by her grandmother Junco and grew up in Oconto. After meeting Clarence Martens on a blind date, the two later married and lived in Coleman, where she became a longtime resident and unofficial "town historian." She remembered everyone's name, marriages and children, greeting them on her daily walks. Treasured by friends and family for her outgoing ways, Harriet was involved in every community event, from parades to fireworks, and was passionate about travel, polka dancing, playing cards and cooking with the school and church ladies. "I have lived a very full life and I have no regrets," said Harriet on May 20, 2013. Harriet was preceded in death by her parents, grandmother, half sister, and husbands, Clarence Martens and John Lerich. She is survived by children Shirley Gruender (Tom), Joann Brosig (Gary), Barbara Paprocki (Henry), Patricia Hudziak (James Stellmaker), Anthony Martens (Nancy), fourteen grandchildren, fifteen great grandchildren, six great-great grandchildren and countless friends. The family will greet relatives and friends at the Rhodes-Charapata Funeral Home, 235 E. Main St., Coleman Wednesday, Feb. 25th from 9 A.M. until 10:15 A.M. The Mass of Christian Burial will be held at St. Anne Catholic Church, Coleman at 10:30 A.M. with Father Celestine Byekwaso officiating. Harriet will be placed to rest at Nicolet Memorial Gardens, Shrine of The Good Shepherd, Green Bay. Please visit rhodescharapata.com to express online condolences.