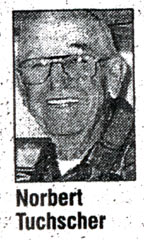 OBIT
Norbert A. Tuchscher, 82, of 10968 County Highway H, Marshfield, died at 1:45 p.m. Saturday, November 9, 2002, at Saint Joseph's Hospital where he was admitted on November 7.
Private services will be held and burial will be in Brooklawn Memory Gardens in the town of Richfield.
Rembs/Kundinger Chapel is assisting the family with the arrangements.
Mr. Tuchscher was born July 8, 1920, in Chili to John and Gertrude (nee Martens) Tuchscher. He was educated at Forsythe School in Chili. On November 29, 1950, he married Loretta M. Steinwagner at Our Lady of Peace Catholic Church in Marshfield.
He served as a tank driver in the U.S. Army in the European-African, Middle Eastern Theater during World War II from December 1, 1942 until his honorable discharge in Dec. 1, 1945. Prior to and following his military service, he was employed for 14 years as a heavy equipment operator for the Wood County Highway Department. He retired in 1982 as a crane operator for the Kramer Construction of Plain. During his 20 years of retirement, Norbert enjoyed the winter months in Arizona and other Western states. While at home he spent many hours tending his hardens and enjoyed meeting the customers at the welding shop. Norbert was a 45-year member of Operating Engineers Local 139.
Surviving are his wife, Loretta Tuchscher of Marshfield; two sons, Jerry (Phyllis) Tuchscher and Gary (Jody) Tuchscher all of Marshfield WI; his daughter Janet Tuchscher of Stevens Point; a grandson, Austin Tuchscher; four stepgrandchildren and seven stepgreat-grandchildren; and his sister, Eleanor Stoflet of Marshfield.
He was predeceased by his parents and a sister, Hilda Kasberger.