OBITUARY Green Bay Press Gazette September 18, 1969:
Miss Lyda Martens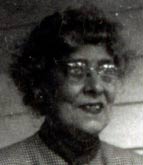 Miss Lyda Martens, 87, 333 S. Superior Street, De Pere, passed away Wednesday evening at a local hospital following a short illness. She was born Feb. 27, 1882 in De Pere and was employed at the H. C. Prange Co. for many years until her retirement 15 years ago. She moved back to De Pere 2 years ago. Miss Martens was preceded in death by her parents, two brothers, one sister. Survivors include nieces and nephews.
At Cotter Funeral Home, 860 N. Webster Ave., De Pere after 7 this evening. Parish rosary 8 p.m. Friday. Funeral services 10 a.m. Saturday at St. Mary Church, the Rev. Raymond Hietpas officiating. Burial in Mt. Olivet Cemetery.