GRANDMA IRENE
I was told today,
the very sad news,
that you passed away.
I took a deep breath,
wanting to break down and cry,
I didn't even get to say good-bye.
I wonder if you knew,
just how much I loved you,
I hope I told you enough,
because it hurts so much,
being so far away,
and losing you today.
I wish there was a way,
I could hold you,
just to say,
"THANK-YOU FOR ALL THE LOVE,
YOU GAVE TO ME,
YOUR THE BEST GRANDMA,
THAT EVER COULD BE"!
I'll FOREVER feel so glad,
for all the treasured times, that we had.
I want you to know,
the memories of you,
I will ALWAYS hold,
deep in my heart,
until the day I depart,
and were together once again.
I LOVE YOU GRANDMA IRENE!
YOUR GRANDDAUGHTER,
TERRIE ANN PERRINO
Terrie Ann Perrino (Perris, CA )
terrieperrino@yahoo.com
Obituary:
SLETTEN, IRENE RUNKEL
Sletten, Irene Runkel of Minneapolis, 95, died March 24, 2006. A memorial service will be held at the Cremation Society of Minnesota, 4343 Nicollet Ave, Mpls (612) 825-2435, Friday, March 31st at 11:00 am. Irene was born in Chile, Wisconsin on Dec. 4, 1910, and attended school in Neillsville, Wisconsin. She and her family moved to Minneapolis in 1949. She was a long time employee of the Veterans' Adminstration Hospital in Minneapolis and a member of the Odd Fellows and Rebecca Lodge for over fifty years. Irene was a member of the Red Cross, American Legion, and the Disabled American Veterans' Auxiliaries. Irene remained a volunteer at the V.A. Hospital for 14 years after she retired from her employment there. She is preceded in death by her sisters, Dorothy Vollmer and Genevieve Malamphy, brother Hilbert Malamphy and husbands, Clarence McGaughey, C.M. Runkel and Howard Sletten. Irene is survived by her sons, Merton Runkel and wife Barbara of South Carolina, Stephen Runkel and wife Cheryl of Shoreview, John McGaughey and wife Penee of Albert Lea; daughter, Kathleen Perrino of Albert Lea and special friend John Nelson of Richfield. She had nine grandchildren and eleven great- grandchildren. Irene lived life to the fullest, cared about others and proudly "always voted Democratic". She will be greatly missed by friends and family.
Published in the Star Tribune on 3/26/2006.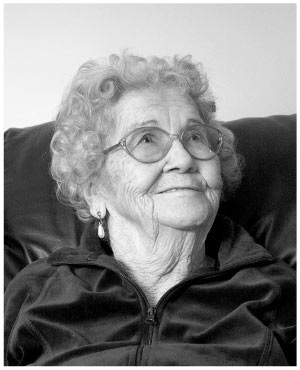 My Gramma was very social and thrived living because of all the friends she made. She was quite a character. Very boisterous and outspoken. When she said something, you sat down and listened. She always told it like it was, no matter if it made her popular or not, but she was loved very much. I will miss her incredibly in my life.
I know it was "her time" and I know she lived "a good life", but she still was my precious little Grandma, and if they would have called me, I would have driven to the cities at midnight to hold her hand, even if she didn't know I was there. I think I'm sad for me, because I wanted to be with her. She was just the best! I will always love you Grandma. Robin