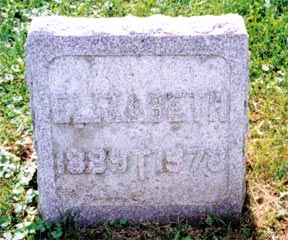 Marinette Eagle Star, Monday, April 23, 1973 FORMER COUNTY RESIDENT DEAD
Coleman - Miss Elizabeth Martens, 83 of Green Bay died Saturday evening at St. Vincent Hospital in that city. She had been a patient for a day. Miss Martens was born May 3, 1889, at DePere and moved to Coleman with her parents as a child.
She resided in Coleman until 1948 when she moved to Green Bay (Note: Per Sr. Mary she lived with The Daley family). In 1954 she moved to Two Rivers and lived there until returning to Green Bay in 1967. Since 1969, she had resided at San Luis Manor Nursing Home in Green Bay.
Surviving are three brothers, Raymond of Pound, Harry of Coleman and Clement of Green Bay. Four brothers and three sisters died previously.
Friends may call at Rhodes mortuary from 4 to 9 p.m. Tuesday. There will be a Bible vigil there at 8:30 p.m. Tuesday.
Final rites will be held Wednesday at 10:30 a.m. at St. John Catholic Church with the Rev. Byron Belanger officiating. Burial will be in the church cemetery.