EMIL PODOBNIK

Emil Podobnik, 70, Rock Dam, Clark County, died Thursday, June 11, 1992, at Marshfield Living Center, Marshfield. Funeral services were held at noon Monday, June 15, 1992, at Holy Family Catholic Church, Willard. Rev. James Lesczynski officiated and burial was in Holy Family Cemetery.

Pallbearers were Donald Hatton Jr., Dennis Hatton, James Arch, Michael Martens, Ronald Hansen and Wayne Bennett.
Emil Podobnik was born Aug. 4, 1921, in Willard, to Michael and Johanna (nee Yurkovich) Podobnik. He received his education at West Eaton School. He was a pitcher for Kidds' Baseball Team in Owen.

He married Della Martens Oct. 7, 1950, at St. Mary's Catholic Church, Greenwood. She survives. After their marriage, he farmed for five years and then moved to Milwaukee and worked for Murphy Diesel and American Motors for a total of 12 years. He then owned and operated Lakeside Lodge in Rock Dam from 1967 - 1975. He then did carpenter work for a few years until retiring. He was a member of Holy Family Catholic Church served on the town of Foster Board for 12 years a member of Knights of Columbus, and KSKJ No. 136 Slovenian Lodge.

Survivors include his wife one brother, Mike Podobnik, Greenwood three sisters, Mrs. Eva Bandosz, Joliet, Ill. Mrs. Gertrude Long, Greenwood and Mrs. Donald (Mary) Hatton, St. Paul, Minn.

He was preceded in death by his parents, one brother, August and two sisters, Mildred Arch and Theresa Mendelson.
Rinka Funeral Home handled the arrangements.
SOURCE: GREENWOOD LIBRARY SCRAPBOOK COLLECTION - TRG 6/17/1992

DELLA M. PODOBNIK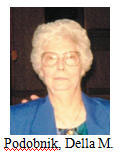 Della M. Podobnik, age 83, of Marshfield, formerly of Willard, died at Ministry St. Joseph's Hospital, in Marshfield, on Friday, September 13, 2013. Funeral Services will be held at 10 p.m. on Thursday, September 19, 2013 at Holy Family Catholic church in Willard, Rev. Steve Brice officiating and Burial will follow in Holy Family Catholic Cemetery. Visitation will be held at the Church, onThursday starting at 9:30 until the time of the service.
Marquerite Della Martens was born on January 2, 1930, in the town of Fremont, rural Chili WI, daughter of William M. and Sophie M. (Croell) Martens. She was raised and received her education in Clark County area schools, graduating from Greenwood High School in 1948. After graduation, Della worked at Clark Electric for a short time before her marriage to Emil Podobnik on October 7, 1950 at St. Mary's Catholic Church in Greenwood. They farmed for a couple of years in the Greenwood area before moving to Milwaukee WI. While living in Milwaukee, Della worked as a secretary for Wisconsin Motors, Wagner Iron Works, and Communications Workers of America. They moved back to Clark County and purchased the Lake Side Lodge at Rock Dam, which they operated from 1967-1975. After selling the Tavern, Della worked for the Clark County Forest and Parks Department until retirement in 1992.
She was a member of the Holy Family Catholic Church and K. S. J. K. Lodge.
Della is survived by 3 sisters, Dorthe Westberg of Prineville OR, Mabel Kruger of Las Vegas NV, Judy (Ron) Allen of Milwaukee WI., 3 brothers: William Martens of Marshfield, Hilbert (Donna) Martens of Junction City and Tim Martens of Milwaukee; and one sister-in-law, Karen Martens of Waupaca; several nieces, nephews, other relatives and friends.
Della was preceded in death by her parents, her husband Emil, June 11, 1992, 2 sisters, Helen Garbush and Jean Michalski, and 2 brothers, Richard and Ted Martens.
Reader: Kathy Martens Lyons
Pall Bearers: Mike, Steve, Brad Martens, Wayne Bennett, Rick Okray, Jim Arch, and Ronald Hansen
On-Line Condolences can be expressed at: www.cuddiefh.com
Cuddie Funeral Home is assisting with the arrangements.