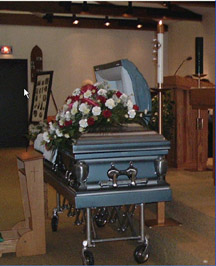 Mary Martens Ziemer's Eulogy at the Mass for Clement B. Martens
The first time I brought Uncle Clem to his home town of Coleman was Nov. 4,1997.
In the spring of 1998 we took Uncle Clem and four of our granddaughters ages 8, 6, 6, &5 to the cottage. They wanted to go fishing, their fishing poles were all tangled together in knots. Uncle Clem sat on the porch and patiently untangled each pole. We brought a chair to the lake and he help the girls put the worms on the hook and he talked about fishing.

I have no doubt that Uncle Clem came to live with us on February 12. 1999 through an intervention of the Lord. He has totally blessed all of our family, our friends and our community. I will be forever changed because I had the privilege of taking care of him.
Uncle Clem was my side kick---we went everywhere together. When we picked up supplies for Richard we would go to a movie, or shopping, or visit the nursing home or stop at one of my kids and play dice or cards. We weren't home very much.
I remember telling him one day in the car, that we were a blessing to each other. He was so kind, loving and polite. He loved hugs and kisses. His memory was better than mine and I would often ask him to remind me to stop somewhere.
We had a Birthday Party for him every year in the Parish Hall after Mass.
He loved to socialize, laugh and have fun. He liked a brandy old fashion with sour & lots of Olives—the more olives you could put on the stick the better he liked the drink.
He liked to joke, had a good sense of humor with a twinkle in his eyes. He had a beautiful smile. He taught me his favorite dice game Zilch and we played it almost everyday. He liked to watch The Price Is Right.
He enjoyed football, baseball and golf on television. He was sharp as a whip even though he could not see very well. I took him to a wrestling match, basketball & baseball game & a track meet at Coleman High School.
Every night we prayed the First Glorious Mystery to the Most Holy Rosary THE RESURECTION along with other prayers. He loved life and his Catholic faith.
In 1999 I had convention in Florida. This was the first time Uncle Clem ever flew in a plane that held more than 4 people.
Upon hearing that this was his first flight at 95 years old, the flight attendant pinned wings on Uncle Clem's shirt and gave him a bottle of wine.
He thanked her and smiled from ear to ear. He was proud to tell people how old he was because he didn't look or act 95.
In Oct. 1999 the three of us flew again to Boise Idaho for our God-child's wedding.
In 2000 I had another convention in California. Richard and Uncle Clem toured the Queen Mary, the Crystal Cathedral and the Wax Museum. They enjoyed each others company.
In 2001 I had another convention in Florida. Richard and Uncle Clem flew in a helicopter over Disney Land & around Orlando. What a thrill. We stayed in Florida for several days and we went to Disney Land and Bush Gardens.
He loved his caregivers, especially Regina and Marvin Brickner who stayed in our home whenever we were gone and took care of him.
There was something wonderful about his spirit, it didn't matter how old or young you were—he touched your life.
Uncle Clem entered the hospital on October 3, 2003 with pneumonia.
On December 26th he was recuperating at San Luis Nursing Home,
Our daughter Sara arranged for us to take Uncle Clem to our Family Christmas party in Howard. We could keep him for 2 hours.
We ate supper and then Uncle asked for a drink of water. I was giving him a drink of water with a straw and he said "its not water" and I said "yes it is" and he said no its not –taste it---so I tasted it and-----it was white soda----we all laughed and I gave him a drink of water. Then he opened presents.

We took pictures with Uncle Clem being the oldest at 99 and holding the youngest grandchild Madison, one month old.
He went back to the nursing home and talked and talked about how much fun he had with the family.
He loved all his nieces and nephews and looked forward to their visits.
On January 11, 2004 the Registered Nurse that was on duty from 11:00 to 7:00 came into the room and said " we live through trial and tribulations on earth and then we graduate & have a graduation party". Uncle Clem's eyes had been open for about 36 hours and they were very dry. At 3:30 A. M. Sunday morning "The Baptism of our Lord" the Nurse said "He is gone" the very moment her words came out of her mouth a single tear rolled down the side of his cheek. He must have seen something so magnificent that he shed a tear. I have been blessed to witness his passing into new life.

There are no words great enough to express how he touched our lives. He was part of our family. We loved and cared for him and in turn he blessed all of us.