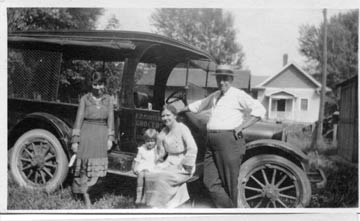 Lyda, Dorothea, Celia, Pete in front of Frank P. Martens Grocery truck and home.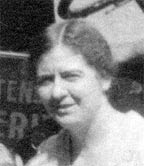 OBIT Creston News Advertiser Gazette
Monday, July 28, 1969
CELIA MARTENS DIES HERE AT 78
Celia Martens, 78, a long-time resident of Creston, died at the Oswald nursing home at 3:35 p.m. sunday after a long illness. Her home has been at 301 south Elm Street. (Cause of Death from Death Certificate: Arteriosclerosis/Breast Cancer)
Miss Martens had lived in Creston most of her life and for many years operated the Martens grocery on west Union street. The grocery was closed a few years ago.
Funeral services will be held at 10 a.m. Tuesday at St. Malachy's Catholic church. Rev. Fr. George Spiegelhalter, the pastor, will officiate. Burial will be in Calvary cemetery. The Rosary will be said at Coens Home for Funerals at 8 p.m. tonight.
Miss Martens was a member of St. Malachy's church. Her only surviving relative is a sister-in-law, Mrs. Rosa Martens of Omaha, Nebraska.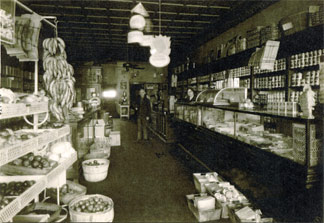 Martens' Store Inside with Henry. The grocery closed a few years before Celia died (The store was willed to her upon Matthew's death). According to my researcher, the building still stands and is unoccupied. (2004)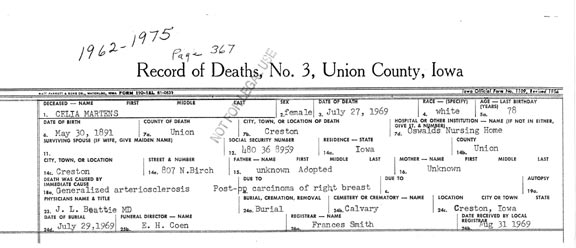 According to a family source, Celia may have been the natural born daughter of Catherine and adopted by her parents as their own daughter. When Mathew died, the bulk of his estate was left to Celia, including the store and house. Celia is buried in the family plot at Calvery Cemetery, but todate, does not have a grave marker. Someday, this needs to be rectified.
CELIA MARTENS Request Information (SS-5)
SSN 480-36-8959 Residence: 50801 Creston, Union, IA
Born 30 May 1891 Last Benefit:
Died Jul 1969 Issued: IA (Before 1951)